COVID-19 Update:
In response to current local conditions we have dispersed staff and will be operating with limited or no regular office hours. This may result in delays responding to sales and support inquiries, however, be assured we will be responding (normal operating hours 9am-5pm eastern). Calls to 800-925-4506 will continue to be answered by a call center and they will relay your message to us. Calls to our office number 516-486-3538 is preferred and will be answered by voicemail, which will also be relayed to our office staff working remotely. At this time USPS, UPS, and FedEx are still operating, order shipments may be delayed slightly but all orders are expected to be processed and shipped, typically within 1 business day. Thank you for your patience and understanding.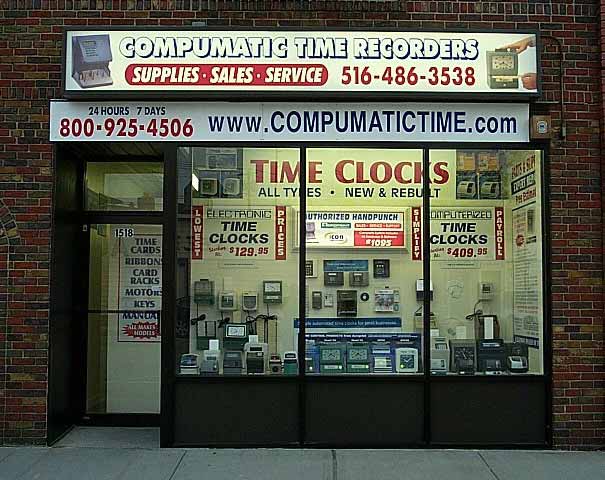 WELCOME TO COMPUMATIC TIME RECORDERS, INC.
Compumatic Time Recorders, Inc. is a full service provider of time clocks & attendance tracking solutions. We carry a full line of new and reconditioned time clocks, as well as perform expert repairs. We also stock motors, ribbons, time cards, keys and all common replacement parts. We have been in the time clock business for over 40 years and we have thrived due to customer satisfaction. Our mission in business is to provide the highest quality product and the best service at the guaranteed lowest price. In addition to selling brands such as Acroprint, Amano, Icon, Lathem, Pyramid, and Recognition Systems (RSI Schlage), we also provide a full line of Compumatic brand time clocks.
With our full line of Compumatic brand time clocks we have your time and attendance tracking needs covered. From basic to biometric we offer top quality construction and high end features, all at budget friendly prices.